VOLUME 1 –BOULDERING CENTRE
(Main picture)
"A modern, premium bouldering centre that is accessible and inclusive for everyone"
Rockworks will be installing the largest dedicated bouldering centre in Surrey and Sussex.
With the current plans to open in late 2019, Volume 1 Climbing will be a brand new indoor bouldering centre coming to Felbridge, East Grinstead. With coaching and instruction headed by Team GB Coach Belinda Fuller, they will be providing courses and clubs for kids and adults of all abilities. The centre is situated in a 12,000 sqft building and will feature over 550 sqm of bouldering surface.
BARCAPLE – DUMFRIES & GALLOWAY
Rockworks are pleased to announce the forthcoming installation of an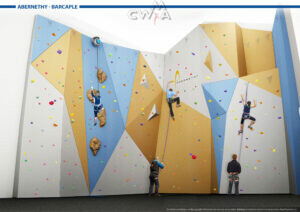 indoor climbing facility to the Abernethy Barcaple, Adventure Activity Centre in Dumfries and Galloway. This new facility incorporates both roped climbing and bouldering and is sited in a purpose built extension to the existing building. In addition to expanding the existing activities at the centre the climbing wall be open to the public and will aim to encourage participation by children and young people.
PORTLAND COLLEGE – MULTI-ACTIVITY CLIMBING TOWER
Rockworks are set to install a freestanding, multi -activity climbing tower to Portland College, Mansfield. The tower will be fitted with a Fan Drop and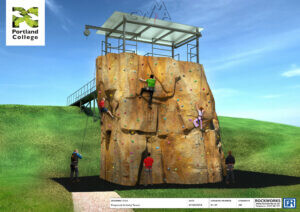 100m zip line and features a high level bridge linking the summit platform to higher ground, specifically designed for wheelchair access. This unique facility is designed to offer an exciting and exhilarating experience to all ages and abilities.